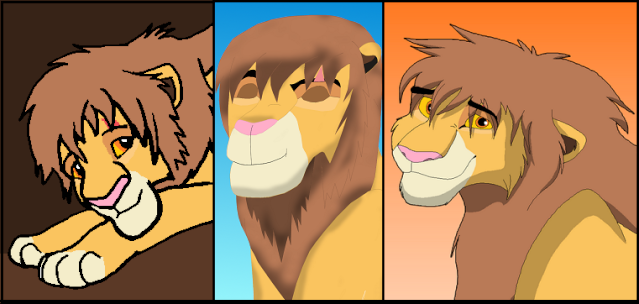 Kiume
Family:
Mate of Ilani - (Deceased); Father of Tao, Kavu and Kudumu; Adoptive Father of Zivia; Son of Dumaka*; Brother of Kato
Looking For:
Pridemembers, Dumaka*
A headstrong male and King of the Outlands. He cares for his pride and would do anything for them. He doesn't take trespassers lightly and will usually fight against them. Especially if they are aligned with Scar. Having been a former Pridelander, he yearns for the days that used to be. His mate Ilani died whilst giving birth to their three children; Tao, Kavu, and Kudumu. With the death of Lani, Kiume has vowed never to love another female again and will only forfeit the title of queen to his daughter Tao if he stays in the Outlands. Kiume fights not under his name, but under Mufasa's name and will be there with an army for all who defy Scar. With Zivia and Kavu's disappearances, Kiume has been more solemn as of late.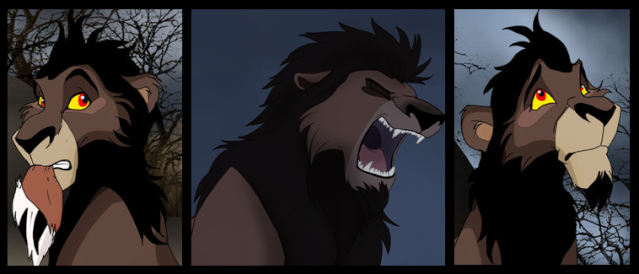 Nuka
Family:
Son of Scar and Zira; Half Brother to Mheetu - (Deceased), Ari - (Deceased), Tasa, Giza, Kifu, Uma and Sibu; Cousin of Simba
Looking For:
Friends
Having grown up under the reign of his father, Nuka has become tougher than normally meets the eye. After his sister Ari's death, Nuka had an argument with his father which split the two apart. Now Nuka hates his father along with the rest of the pride (besides his mother). A training session with his mother will result in him being nervous around her, never wanting to make her that angry again. He will despise the younger siblings that his mother or father have, knowing that they were only created because his parents saw him as weak. But Nuka will one day prove them all wrong, one way or another. He will soon be exiled to the Outlands, but will try to seek peace with the Pridelanders. And along the way, he may just end up finding love.

Ni
Family:
Mate of Abuto; Father of Kirabo, Kovu (Kanu)* and Vitani (Zuri)*; Brother of Kimondo - (Deceased), Adoptive Father of Kiasi and Makosa
Looking For:
Pridemembers, Kovu (Kanu)*, Vitani (Zuri)*
Being king is something that Ni never wanted to be, but after his brother Kimondo's death it was something he was forced onto. He and his friend Abuto took in two abandoned cubs from the Pridelands -Kiasi and Makosa- and have raised them as their own. Finally after a few years being without a queen, Ni fell in love with the mother of his adopted cubs and became Abuto's mate. The two now have three children together: Kirabo, Kanu and Zuri. However things won't be so perfect when trouble befalls the Shadowlands and two of his children are stolen right from his eyes.

Upendo
Family:
Mate of Giza; Son of Shinikizo - (Deceased) and Shani - (Deceased); Brother of Jabari, Ziko, Sakina and Malaika
Looking For:
Friends
Having both of his parents die one right after another has scarred Upendo for life. However he will push through it and become a better lion because of it. Despite being one of the only males in the pride, Upendo doesn't wish to become the princess' mate, stating that he would rather be his best friend's mate than hers. Since his mother's death, Upendo has gone out along with Giza in search of his brothers and Giza's sister. And when the two return, Upendo will return as an adult, in more than one way. Soon he will have the chance to become something that his own father wasn't, a caregiver.
Heshima
Family:
Mate of Nako; Mother of Ari - (Deceased), Tasa, Giza, Kifu, Kiasi and Makosa; Surrogate Mother of Uma
Looking For:
Friends, Pridemembers
Having being exiled from the Pridelands with the blame of her daughter's death, Heshima and her son Kifu ventured to the Lowlands and found a forgotten kingdom. Having found a friend there, Heshima rules alongside a lion called Nako as queen. She has recently been reunited with her long lost daughter Giza and is also at the same time developing romantic feelings for Nako. Soon enough, Heshima will be given the chance of a lifetime to fall in love and finally get everything that she wanted in life. Little does she know, she will soon become a grandmother, something that will make her feel very, very old in her life.
Chui
Family:
Son of Yetu - (Deceased) and Aisha - (Deceased); Half Brother of Nako
Looking For:
Friends
A very spiritual cub, Chui walks in the path of the Great Spirits. He is always the one to break up fights and will normally advise someone on what he feels the Great Spirits would want them to do. Chui is adventurous, usually finding his ways to the Desertlands or the Ashlands depending on how far he could get away. Technically being responsible for his mother's death, Chui is very lonely at times for there are no cubs his age to wrestle with. However, Chui has no idea that he has another part of his family waiting over the pass in the Ashlands nor that his step-niece is residing in the Lowlands with him as well.
I'm open to any plotting ideas you guys might have!
* - Character found in Want Ads or Canon List
Upcoming Characters

Kuraka - Outsider
Akiva - Lowlander
Kondo - Pridelander
Hasana - Coldlander
Sukari - Desertlander
Baako - Outlander
Enzi - Coldlander